Symphony bridal
Listing/Offer 8979
Size 12
2014 year
$550.00

I bought my wedding gown in NYC and use it twice only on my fit day and on my wedding day. Never been alter so its good and at same time its lovely dress. Be beautiful on your day. My price is low, i would love to keep it but we just need to be practical and let go of it. I will give my veil for free. (May 16 2014 wedding day)
Alfred Angelo 1526 or 611
Listing/Offer 8978
Size 12
2007 year
$200.00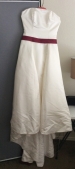 Slightly worn, dry cleaned, wrinkled from being stored in bag.
Saison Blanche G19486
Listing/Offer 8977
Size 12
2013 year
$1,200.00

Wonderful lacy romantic dress. Sweetheart cut, mermaid style. I am selling WITH veil and bolero AND the added on belt that was not a part of this dress before. So this is a one of a kind unique dress.
Eden Bridals Black Lable
Listing/Offer 8976
Size 14
2013 year
$1,200.00

Never been worn wedding dress size 14. Still in packaging. Best offer. Want to get rid of ASAP. Must be able to meet to pick up dress Majestic strapless fit and flare gown in delicately beaded Lace applique and Tulle. The sweetheart bodice is accented at the natural waistline with grosgrain ribbon and delicate handmade flowers and
- Other Brand -
Listing/Offer 8974
Size 0
2008 year
$0.00

- Other Brand - My fashion
Listing/Offer 8972
Size 12
2004 year
$600.00

White sleeveless beaded dress
- Other Brand - jack diamonds
Listing/Offer 8971
Size 7
1986 year
$1,200.00

Beautiful brand new jack diamonds wedding gown still sealed in original box..comes with matching veil never opened or worn
A-line Sheath brianna
Listing/Offer 8970
Size 10
2011 year
$100.00

this is a new dress that has not had nothing done to it. this dress comes with a matching shew that is also trimmed in emerald.